…to the Great Lakes Colleges Association/Global Liberal Arts Alliance (GLCA/GLAA) Consortium for Teaching and Learning (CTL). This educational community includes faculty members of the 13 colleges of the GLCA and from the extended range of institutional partners comprising the Global Liberal Arts Alliance. The Consortium has been created to serve faculty and instructional staff at these colleges, providing them access to educational resources beyond those available at any single college; we seek to form broader communities of practice among GLCA institutions and liberal arts colleges in the U.S and abroad. In an era of limited resources, there is much to be gained by combining knowledge, experience, and practice in a common endeavor.
---
Featured Collaboration: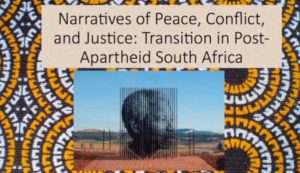 [NOTE: The above video is an edited version of a conversation (carried out on Zoom) between Johnston and Kusá recorded at a meeting of the GLCA/GLAA Consortium on Teaching and Learning in Ann Arbor on February 11, 2017. For a full-length version of the conversation, please follow this link.]
Deirdre Johnston, Professor of Communications at Hope College in Holland, Michigan, USA, and Dagmar Kusá, Professor of Political Science at the Bratislava International School of Liberal Arts (BISLA) in Bratislava, Slovakia, developed a collaborative program in conjunction with Rima Rantisi at the American University in Beirut, to study and experience Narratives of Peace, Conflict, and Justice.  Through readings, reflection, and interaction with one another, both faculty and students worked to deconstruct myths, stereotypes, and prejudices within one's own setting, before bringing those understandings to a new setting, South Africa. This included an examination of race relations in the U.S., the treatment accorded to the Roma in Europe, and issues of religion and tribe in Lebanon. Visiting South Africa, a country that was largely unknown to the participants, and witnessing the same kinds of conflicts as in the settings they knew better, brought about a profound realization of how pervasive the themes they had studied are in human society. For the faculty members the collaboration allowed them to grow tremendously as professionals.  In addition to learning from one another, they learned from their students as they voiced responses to what they had experienced.  Combining their specialties to create an approach to narrative through the lens of politics, literature, and social justice, they greatly enhanced ways of viewing and understanding peace conflict and justice.

Their presentation also includes reflections of a student from Hope College, Sarah Harvin, who participated in the project.
A slide show of photos from their extraordinary learning experience can also be viewed by clicking here.

---
­­                                                                                                        
[NOTE: The video is an edited version of a conversation (carried out on Zoom) between Dillmann and Stantcheva recorded at a meeting of the GLCA/GLAA Consortium on Teaching and Learning in Ann Arbor on February 11, 2017. For a full-length version of the conversation, please follow this link.]
Gabriele Dillmann, Professor of German at Denison University in Granville, Ohio, USA, and Diana Stantcheva, Professor of German at the American University of Bulgaria (AUBG) in Blagoevgrad, Bulgaria, described a set of connected courses they have offered to their students over eight consecutive semesters. The idea for the project stemmed from the realization that collaborating can help students expand their proficiency in learning a second language. Gabriele had discovered early on, however, that seeking to link her introductory German class with German students was not effective, because German students had so much better command of English than her American students had of German. This led to the idea of working with a professor of another country whose students were also in formative stages of learning German. For Gabriele and Diana, this was an ideal pairing, because students in both of their classes approached the study of introductory German with the same basic proficiency. An extended description of this collaboration can be found under the "Article of the Week" tab.

---
Websites of Note: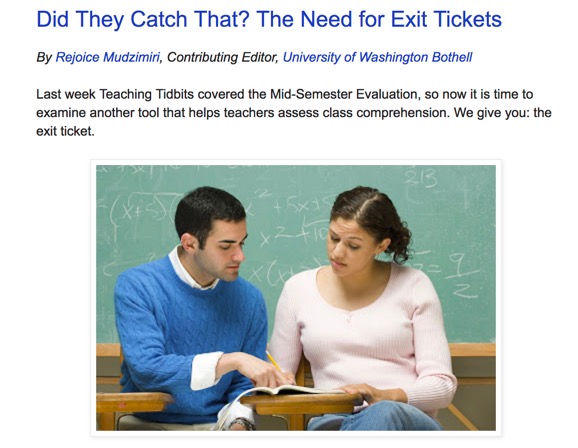 Teaching Tidbits Blog: Teaching Tidbits is the new blog hosted by the Mathematical Association of America, and authored by math teachers. The posts are geared toward undergraduate classrooms but also could be used by K-12 teachers. As they note, "each post can be read while you walk to class and implemented within minutes" (although we recommend paying attention to where you're walking rather than reading your phone!!). If you have an idea to share, you can email your tip to: teachingtidbits@maa.org. Lew Ludwig, of Denison University, is the editor-in-chief of the blog.
---

Teaching Journals Directory and Teaching Conferences Directory
Want to keep up with news on teaching and learning in higher education? Want to publish your research or opinions on higher ed (other than on this site!)? Here's an impossibly complete list of journals, newsletters, and on-line sites on the subjects of teaching and learning, pedagogy, and education, provided by Kennesaw State University's Center for Teaching and Learning.  And, when you're tired of reading and want to go to a conferences, the CETL also provides a remarkably complete directory of conferences and workshops on teaching and learning. Both of these sites, by the way, are searchable by discipline and topic (for the journals), and city, state, country, discipline and topic (for conferences).

---