Rosalinda H. Linares (Information Literacy Librarian, Fort Lewis College) and Steve Volk (Oberlin College, GLCA Consortium for Teaching & Learning)

Note: This article is an edited version of one that originally appeared on January 23, 2017
A recent humor piece by Marika Seigel in McSweeney's lists the "Action Items on Your Radical Professor's Liberal Agenda." About a third of the way down, one finds: "Painstakingly write another comment explaining why this particular claim needs to be supported with a credible source and that it needs to include a parenthetical citation formatted — as specified in assignment guidelines — according to APA style…" Another "action item" comes fast on its heels: "Wonder whether supporting 'claims' with 'credible sources' is even still a 'thing' in 2017?"
NPR, in announcing its coverage of the inauguration, noted that it would be "live fact-checking" the inaugural address online.  Was that also an attempt at humor? Contemplating what it means that a major media outlet is even thinking about live fact-checking an inaugural address is truly dispiriting…but unfortunately necessary. Two days after the inauguration, Kellyanne Conway, counselor to Mr. Trump, argued that the White House had offered "alternative facts" to the media when it stated, untruthfully, that Trump's swearing-in was witnessed by "the largest audience to ever witness an inauguration."
Having been buried under "fake news," lies, and pants-on-fire distortions for months, we now  witness the distorters not only leveling the same charges at their critics but inhabiting a parallel universe where "alternative facts" bump up against, what?, "real" facts?  It's enough to make your head spin.
And perhaps that is precisely the purpose.
Politics has always had a fraught relationship with the "truth." And yet, as many have argued, the challenge which the Trump administration offers to our ability to separate fact from fabrication is significant. The Washington Post reports that, as of mid-August 2019, he has made more than 12,000 false or misleading claims since coming to office. All of this demands a thoughtful and deliberate response from those whose business it is to educate students precisely in the ability to understand information, evaluate arguments, and separate fact and opinion. To do that, we must face up to the reality that this is not actually an easy task, it's not like distinguishing red from green or one from zero.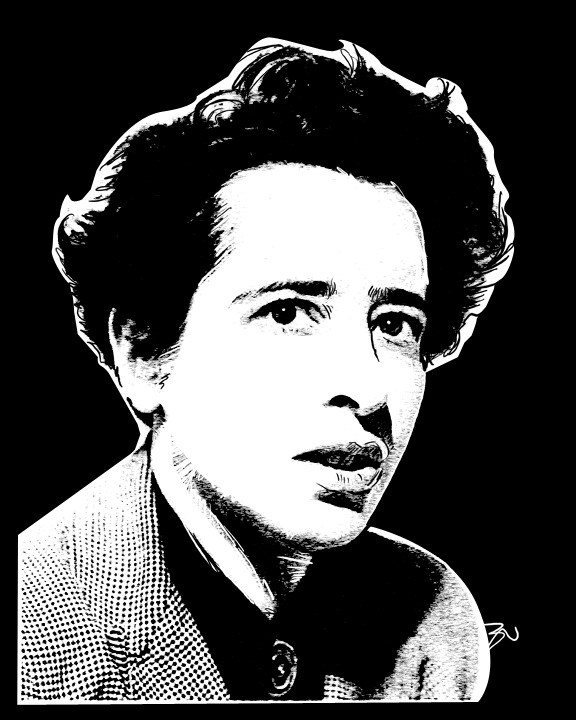 Truth and Politics
In "Truth and Politics," an essay by Hannah Arendt first published in the New Yorker in 1967, the philosopher provides a way to think about what we are up against. She begins by arguing that the "modern age… believes that truth is neither given to nor disclosed to but produced by the human mind." Truth is not simply what a greater power, either spiritual or temporal, has declared it to be. While she divides "rational truth" ("mathematical, scientific, and philosophical truths") from "factual truth," her purpose is to explore "what injury political power is capable of inflicting upon truth," and, in particular, factual truth.
"The opposite of a rationally true statement," she argues, "is either error and ignorance, as in the sciences, or illusion and opinion, as in philosophy." Einstein, in that sense, didn't prove Newton to be a fraud, but rather to be in error. (This is something that the general public, not to mention politicians, don't seem to understand about how science works.) "Deliberate falsehood, the plain lie," she continues, "plays its role only in the domain of factual statements…" She adds, somewhat depressingly, "Dominion (to speak Hobbes' language) when it attacks rational truth oversteps, as it were, its domain, while it gives battle on its own ground when it falsifies or lies away facts. The chances of factual truth surviving the onslaught of power are very slim indeed…"
Arendt recounts the story, perhaps apocryphal, of a conversation between the former French Prime Minister Georges Clemenceau and a representative of the German Weimar Republic which took place in the 1920s. They were discussing who was responsible for the outbreak of the First World War. "What," the Frenchman was asked, "in your opinion, will future historians think of this troublesome and controversial issue?" Clemenceau replied, "This I don't know. But I know for certain that they will not say Belgium invaded Germany." Unless, of course, as Arendt goes on to point out, histories are written to assert just that.
Unwelcome factual truths, shall we say "inconvenient truths," are "tolerated in free countries," Arendt writes, but "they are often, consciously or unconsciously, transformed into opinions." Climate warming data, the relationship between vaccines and autism, the success rate of for-profit voucher schools cease to be "factual truths" and become "matters of opinion," or perhaps (as we're now observing), an "alternative" set of facts. The cynic's answer to the assertion that everyone has a right to her own opinions but not to her own facts, is to turn all facts into opinions. But facts, Arendt argues, have a "despotic character;" they don't rest on how many people accept them. It's not a popularity contest. "Unwelcome opinion can be argued with," Arendt continues, "rejected, or compromised upon, but unwelcome facts possess an infuriating stubbornness that nothing can move except plain lies."
So, where does that leave us? Actually, with a lot of work to do. In previous "Articles of the Week," we have 
examined the "post-truth" era and our responsibilities as educators. We want to explore this further today, taking into account the Framework for Information Literacy published in 2015 by the Association of College and Research Libraries.
Let's begin with Arendt's comment that "truth is neither given to nor disclosed to but produced by the human mind." If "truth" is not "given," then we must understand that it is constructed and contextual, which means that even as it asserts its "facticity," it is not beyond interrogation. Let's consider this in the light of the "Student Learning Goals" adopted at Oberlin in  2015. The first goal, deepening understanding in specific fields, recognizes that "A deeper understanding of a specific field of study generates the potential for students to move beyond the skills of analyzing and evaluating information and towards the creation of new knowledge or approaches, or the production of original work." The second goal, broadening knowledge, states that "Learning across established fields of study, both within disciplines and in interdisciplinary approaches, cultivates in students a concrete appreciation for different ways of constructing knowledge and different modes of discernment with which one should be familiar." And the third goal, analysis based on evidence and context, understands that "To engage in critical analysis is to be aware of the social, political, cultural, historical, and scientific contexts that have shaped the development of knowledge and, therefore, to be humble in face of its limits." All of these demand that we revise our approach to "information literacy," so, let's talk about it.
The Old Information Literacy
First, we'll have to reckon with a somewhat out-dated, inchoate notion of 'information literacy' as a discrete and numerable set of abilities that learners simply employ regardless of context in order to find, evaluate, and use information. Once mastered, such learners were considered "information-literate." This plug-and-play definition divorces learners from the more transformative, reflective, and discipline-specific metacognitive practices and behavioral dispositions that inform the sound and effective pedagogies delineated in our own (Oberlin) Learning Goals.
Information Literacy at Oberlin College Libraries
Beyond bolstering students' abilities to find, evaluate, and use information, in the library we strive through the rich resources and objects in our diverse collections to show students how knowledge is produced and how that creation process differs across disciplines. We also strive to show them that scholarship is a conversation and that those conversations have real value.
We want our students to feel comfortable negotiating collaborative, increasingly digital academic spaces and to develop the knowledge practices and dispositions that will take them not only from a novice to an expert in their specific disciplines while in college, but also transform them into questioning, curious citizens of the world after they leave our campuses.
A New Information Literacy
Entities the world over have articulated information literacy models, standards or rubrics. At the Oberlin College Libraries, we find the above-mentioned Association of College and Research Libraries Framework for Information Literacy in Higher Education to be most in line with our own Learning Goals. The ACRL Framework is grounded in the reflective pedagogical practices of metacognition, which includes Thomas Mackey and Trudi Jacobson's work on redefining information literacy as metaliteracy, as well as Grant Wiggins and Jay McTighe's theories of Understanding by Design. The six theoretical frames, each followed by 6-8 knowledge practices and dispositions are also extensible, inviting librarians and faculty to put theory into intentional practice given the subject and context-specific loci of a particular assignment, learning objective, or course.
Opportunities for Faculty/Librarian Collaborations
Click on the boxes below for each of the six ACRL Frames to read more about the described knowledge practices and dispositions. Under the links are examples taken from library instruction sessions of how librarians and faculty can help students negotiate an over-saturated and increasingly complex information ecosystem and remove the fog of confusion and misunderstanding produced by our political ecosystem as regards to what information actually is and how to best assess its value, provenance, and impact.
Authority is Constructed and Contextual
Students read and compare the texts of short articles stripped of identifying information (author, affiliation, publishing body, etc.) and consider the voice and perspective portrayed in texts. Then, when the identifying information is introduced, students interrogate the authority of the text based on this newfound context.
Information Creation as a Process
Students are each assigned a periodical and asked to find, access, and report back on not only the purpose and audience, but also authorial credentials, article selection process, content and language, circulation, among other factors.
Information Has Value
Students can explore the philosophy of attribution and its inherent value by creating their own citation styles in groups and providing reflective justification for these styles, given an assigned article, after reviewing the citation style of their specific discipline.
Research as Inquiry
Students work in groups on a specific topic and spend time searching in multiple resources (e.g., encyclopedias, subject-specific databases, Google Scholar) and report back on the similarities, differences, tips, tricks, and the overall relevance of each diverse source relative to their topic.
Scholarship as Conversation
Students trying to identify scholarly conversation are given topic-specific articles where they are required to trace citations through the bibliographies (both backwards and forwards) in order to create a citation timeline of scholarly thought on a stated topic.
Searching as Strategic Exploration
Students leverage Google to conduct preliminary searches on their topics in order to determine key stakeholders, and use a brainstorming worksheet to develop a search path to consider in order to identify broader, narrower, related, and synonymous keywords for more efficient and effective searching on their topic.
Next Steps in Information Literacy
We are teetering at the edge of a world where, as Humpty Dumpty told Alice: "When I use a word it means just what I choose it to mean—neither more nor less."  When Alice questions "whether you can make words mean so many different things," Humpty reveals the relationship between truth and power: "The question is which is to be master—that's all."  Approaching the demands of this new understanding of information literacy must be the work of the entire educational team at Oberlin and elsewhere, particularly librarians and faculty. It is work that needs to be stressed in introductory courses in every discipline, and continue on through higher level courses.
As you work on your class prep and course syllabi, consider contacting your liaison librarian in order to collaborate on incorporating information literacy into your assignments. You may also want to consult the very useful CORA website: Community of Online Research Assignments, where faculty and librarians have posted a large number of assignments that utilize Framework approaches as well as blog posts on this topic.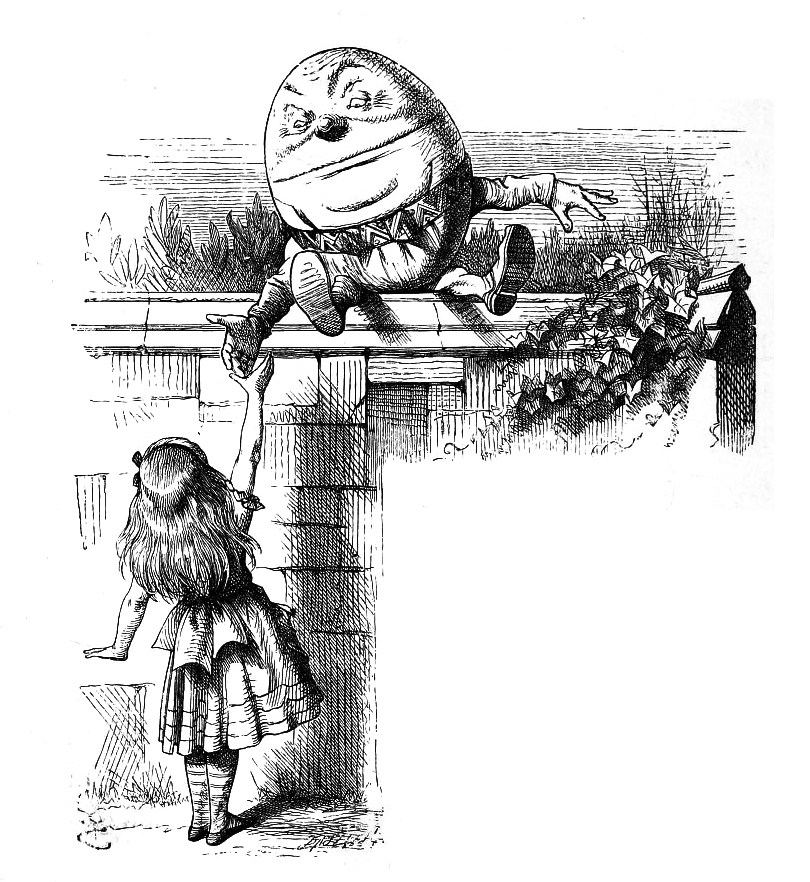 Humpty-Dumpty and Alice, Through the Looking Glass, John Tenniel, illustrations, 1871. Public Domain