Teaching and Learning
Plagiarism Is a Structural Problem (Steven Mintz, Inside Higher Ed, August 24, 2022): How our campuses can minimize plagiarism.
A Forward to Toward a Critical Instructional Design (Robin Derosa, Hybrid Pedagogy, August 24, 2022): The forward to Toward a Critical Instructional Design, an edited collection championing a problem-posing approach to instructional design.
Teaching Lower-Division Undergraduates to Think Like Anthropologists, Economists, Geographers, Political Scientists, Psychologists and Sociologists (Steven Mintz, Inside Higher Ed, August 23, 2022): A call for a more holistic approach to teaching the social sciences.
Coteaching: A Formula for Learning From and With Colleagues (Eleni Caldwell and Debbie French, Faculty Focus, August 22, 2022): Because one may face the challenge or opportunity to coteach with a colleague, the authors present a easy-to-replicate steps to cultivate a positive reciprocal mentoring relationship and generate an effective student learning experience.
Communities of Practice: How to Help Them Thrive (Melanie Brown, Times Higher Education, August 18, 2022): There are few better ways for faculty to build and share knowledge within institutions, but while communities of practice can evolve organically, they also need nurturing.
The New Semester 
Academia: Back to School (Timothy Burke, Eight by Seven, August 25, 2022): "I still love the start of the semester, however worried or frustrated I get with where academia seems to be going."
Starting Off Right with the Syllabus (Cathy N. Davidson and Christina Katopodis, Inside Higher Ed, August 24, 2022): We can create more engaging and inspiring ways to begin a class, and the authors provide some concrete ideas for how to do so.
Back to School (Bonni Stachowiak, Teaching in Higher Ed, August 25, 2022): Starting small: What are the small things we can do to make things better in the new semester. 17 min. podcast.
Higher Education Faces Challenges
Students Say College is Worth the Cost, but Majority are Shouldering Education Expenses on Their Own and Struggling (Cengage, August 11, 2022): A survey of 1,200 students by Cengage finds that the majority feel strongly that their education is worth what they're paying; four out of five wished colleges would spend more money on course materials and less on amenities like residence halls, facilities, and athletics.
Our House Is Burning (Eric Mlyn, Inside Higher Ed, August 22, 2022): Traditional approaches to civic education are not sufficient to counter the urgent threats to American democracy.
Equity and Justice in Higher Ed
Using Critical Thinking to Address Implicit Bias (Diane L. Smith, Faculty Focus, August 24, 2022): Suggests ways that a critical thinking approach can be used to introduce the concepts of social justice and implicit bias.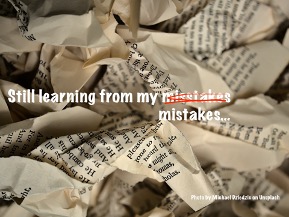 Contributions from the Community
With this edition of the "News" we begin a new feature, short articles on pedagogy, teaching and learning from our community members. This first one, "How Dare You Fall Asleep" is from a series that Lew Ludwig, the Director of Denison's Center for Learning and Teaching, wrote for his campus, all based on what he has learned from his misstakes – sorry, mistakes! As he writes:
I am a white cis male who first stepped over to the other side of the desk in 1993. While I have developed a successful career in high education, this did not come easily. Unfortunately, my junior colleagues see my current version and comment, "well yeah, it's easy for you," or "you're just a natural teacher." This has caused me to reflect on all the mistakes and failures I've experienced over the years.
Inspired by Beth McMurtie's article in the Chronicle of Higher Education, The Damaging Myth of the Natural Teacher, I decided to share my history of failures and shortcomings through a short series I call "Still learning from my misstakes mistakes." My goal is to show everyone makes mistakes, even seasoned veterans. But the important thing is how we learn from them and move forward. As someone in a perceived position of privilege, I wanted to help normalize the act of failing. [You can see Lew's introductory essay, in response to McMurtie, here.]
How Dare You Fall Asleep (Lew Ludwig, Center for Teaching and Learning, Denison, March 24, 2022):
While I keep a relatively low-key persona in daily interactions, my Myers-Briggs is INTP. If you follow such things, you will be surprised how outgoing I am in the classroom. I was fortunate enough to conduct my student teaching under George Schwipps, a high school math teacher described as "part game show host, part auctioneer." Some of George's classroom enthusiasm rubbed off on me, and I try to keep my classes lively and engaged.
That said, woe to the student who nods off in my class! How could this be? My classes are high energy! How could a student find them so boring that they nod off? [For the answers, continue reading here.]