Steve Volk (GLCA/GLAA Consortium for Teaching and Learning and Oberlin College), February 4, 2020.
Educators are profoundly anxious about the state of democracy in the United States and what its further deterioration might imply for educational institutions and the quality of classroom interactions. At least, that was my take-away from attending the recent annual meeting of the Association of American Colleges & Universities (AAC&U). Nor was I surprised. Washington's threats to withhold federal dollars for research programs such as climate science or to colleges that don't adhere to its politically interested definition of "free speech," are frightening. No less so are this administration's attacks on the media, its ceaseless lying (16,000 and counting, according to the Washington Post), shameless incivility, and exuberant norm-busting. By my count, no fewer than 18 sessions at the meetings were devoted to the topic of promoting democratic and civic engagement on campuses, themes that were also raised in the plenary sessions. So the seminar session that Sara Drury (Wabash) and I offered on "Dialogue/Deliberation for Democratic Engagement" was in good company.
Our session introduced a project under development for the GLCA's Consortium for Teaching and Learning (CTL). I began by recounting two anecdotes, each troubling in its own way. Last October, some students at Georgia Southern University, upset by what an invited lecturer had to say, responded by burning her book.  Students had read Jennine Capó Crucet's novel as part of their first-year experience courses. Make Your Home Among Strangers chronicles the challenges a young Latina student encounters at a majority-white college. And given how she was greeted there, one finds little reason to doubt that her fictional protagonist would have been sorely tested at Georgia Southern. As one undergraduate tweeted to Capó Crucet, "Nobody cared about your shitty book." The angry students labeled Capó Crucet as "racist" for daring to speak about white privilege on a campus with a history of racist incidents. So they burned her book.
The second case, originating from the desire to actually open the space for conversations rather than take a torch to them, was nonetheless troubling. A concerned faculty member shared a colleague's request on a listserv for small college teaching and learning centers: "I find," the professor wrote, "that my students are increasingly resistant to even thinking about dissenting ideas, let alone engaging with them in a meaningful way." She was searching for suggestions on how to help students think critically, discuss reasonably, and engage openly. Put simply, she was asking how, during this difficult time, we continue to do what we have always done — or tried to do — at liberal arts colleges. These were the challenges Sara and I raised in our session, challenges that we heard at many other sessions: How do we reinforce one of higher education's central goals – fostering student capacity to act democratically and responsively in their communities and the wider world?
A poll taken in mid-2018 by the John S. and James L. Knight Foundation and Georgetown University's Baker Center for Leadership & Governance indicates the profundity of the problem we face. It found only 40% of those polled were "satisfied" by the state of democracy in the United States (and only 10% of those were "very satisfied"). Barely more than half of those between 18-29 thought that democracy "served the people." Similarly, research by social scientists analyzing political attitudes among young people in North  America and  Western  Europe disclosed rising levels of cynicism about the value of democracy as a political system. As Roberto Stefan Foa and Yascha Mounk noted, "The crisis of democratic legitimacy extends across a much wider set of indicators than previously appreciated."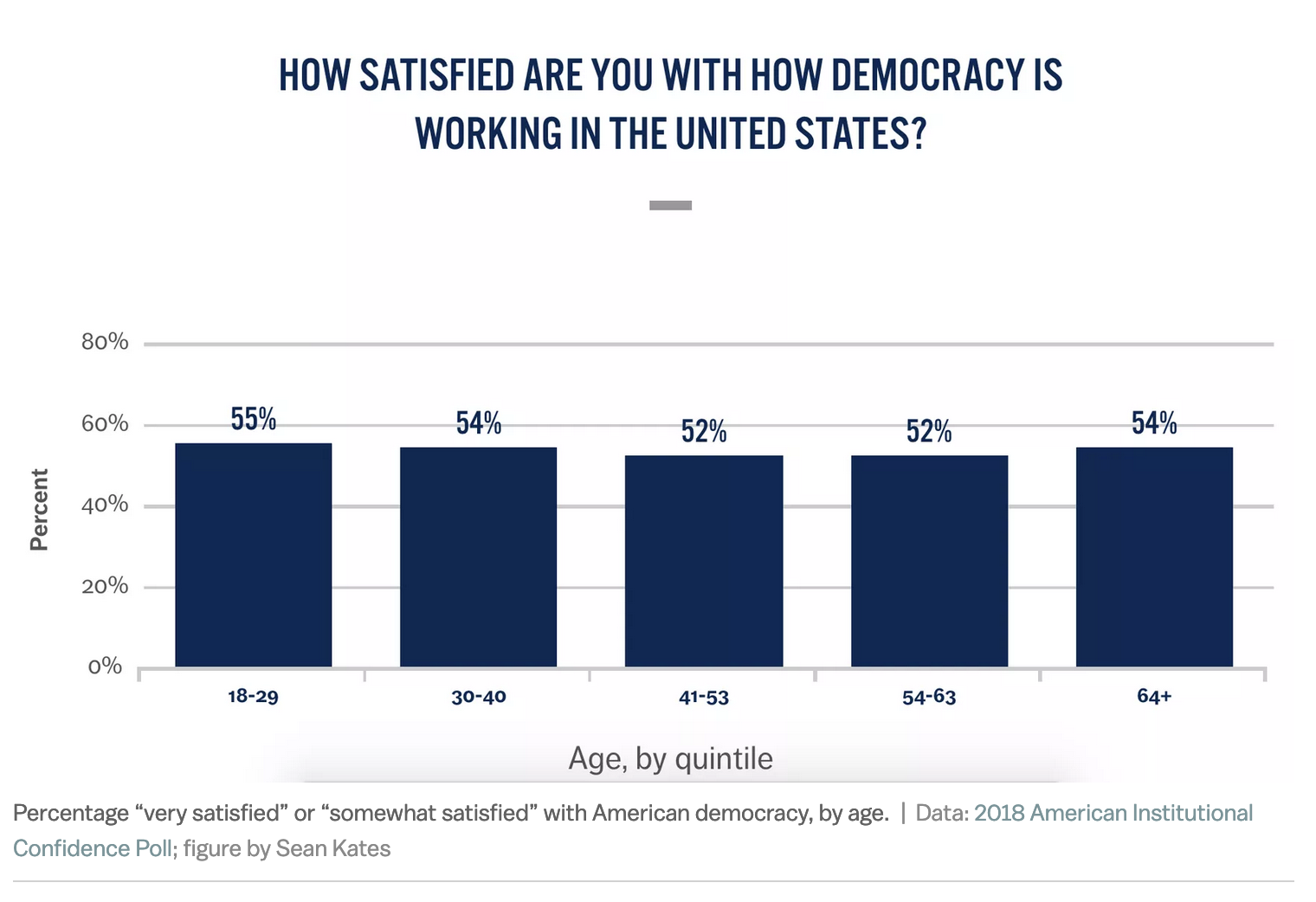 As educators, we can't address the global crisis of democracy, but we can, with much greater intentionality, prepare our students for meaningful democratic engagement. And in that regard, as Dr. Mary Dana Hinton, the president of the College of St. Benedict, said in the opening AAC&U plenary, "the burden is in our classrooms." For that reason, the GLCA's Consortium for Teaching and Learning is pursuing funding that would permit it to pilot a program designed to foster faculty interest in, and student capacity for, "engaged conversation, reasoning spaces classrooms," as defined by Anthony Laden (Reasoning: A Social Picture).  This approach would draw on learning goals traditionally embedded in liberal arts pedagogy, such as the enhancement of evidence-based analysis and critical thinking practices, as well as by strengthening democratic "habits of the heart" (Robert Bellah), a concept expanded on by Danielle Allen (Talking to Strangers) when she refers to those "citizenly habits that can contend with the unequal distribution of benefits and burdens inevitably produced by political decisions."
Our challenge, it would seem, is not simply (or only) how to educate our students, but how to inspire values-directed learning that can sustain and promote deeply democratic practices. To do this, we plan to link two pedagogic approaches. The first, "engaged conversations" or dialogic discussions, is a methodology designed to enhance the trust and respect needed among and between students to heighten open-mindedness, the willingness and ability to listen deeply – and respond appropriately – to others, take risks, and question one's own fixed beliefs. The second would employ the methods of deliberative pedagogy to help students move from thought to action on the basis of  newly created networks of mutual obligation, by assessing available alternatives while reaching for deeper understandings of how their implementation would impact human well-being.

The need for "habit-forming" practices of engaged deliberation underlies the importance of designing this project to reach both across the curriculum and over the course of a student's undergraduate years. Discursive practices built up across the curriculum – in chemistry, literature, computer science, history, and biology classes, and not just in politics or sociology classes – are essential to this project's successful outcome. Combining deliberative pedagogical approaches onto "engaged conversation" practices will help move students from a process of being able to listen to, and hear, each other, to a point where they can decide what actions are needed and what are the implications for "losers" as well as "winners" of that action.
Derek Bok, the former president of Harvard, wrote that "it is a safe bet that a majority of undergraduates complete their four years with very little preparation either as citizens or as professionals for the international challenges that are likely to confront them" (Our Underachieving Colleges). When we understand that "preparation for citizenship" means that our students need to be able, as well as willing, to take on the responsibilities for creating equitable and democratic communities, whether in the classroom, on campus or in the larger society, then we will understand that this is work that needs to shouldered by all, and that is work that will strengthen us all.