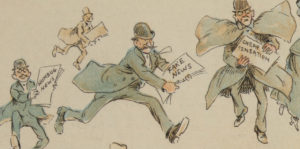 Regan Postma-Montaño, Assistant Professor of English and Spanish.
May 7, 2018
Contact at: postmamontano@hope.edu
Hands shot up around the room and questions burst out: "Is there a website that tells you if information is reliable?" "How can I check for bias?" "What is the difference between paraphrasing and summarizing?" "When are we going to do the session on citation?" This class was different. After semesters of introductory sessions on the basics of library research during which an occasional hand would rise, I wondered where these eager questions were coming from.
Truth be told I had reservations about the inauguration of our 45 th president. What shook me was not simply that Donald Trump won; it was how he won: angry and belligerent rhetoric, xenophobia, and misinformation via articles whose chief aim was to stoke anger in his constituents. In many ways, he won by doing the very things I teach students not to do.
Like in many classrooms around the country, the students in my spring semester 2017 (post-election) first-year writing course and I struggled with the aftermath. In an ethnically diverse area that is also known for its religious and political conservatism, students with "Make America Great Again" stickers on their cellphones and laptops sat next to immigrant and international students attending the Women's March on Washington. Having taught first-year writing for many semesters, I was used to blank stares during this initial library session on the basics of research, evaluating sources, and avoiding plagiarism. I expected as much a few days after the January 2017 inauguration when I found myself with my 18 students in our dimly lit library teaching lab. As students eagerly raised their hands, I realized that the election had changed my course. What was a typical first-year writing course before the election shifted to something distinct.
A first-year writing course, surprising to me, became an apt space for learning and practicing the tools of democracy. We did so by coming to understand the fundamentals of academic writing: thinking and reading critically, researching responsibly, writing in multiple drafts, and sharing our work with others. We did so by sitting next to people who held distinct beliefs, listening carefully to new ideas, and challenging each other with honest questions. The theme of my particular section —spirituality —invited students even further as they examined foundational beliefs and ways of interacting with people and the planet. Since I do not teach civics, it never occurred to me that the time would come when teaching citation and source material would be essential to democracy. And yet, here we were. Each day as I walked to class the words of Brazilian theater director Augusto Boal echoed in my mind: "All theater is necessarily political" (ix). So too it felt for me in my first-year writing class —my teaching had become urgently political.
Perhaps it is not so much that I drastically altered my syllabus but that old things took on new significance. What I regarded as rudimentary in semesters past found considerable new energy. After that January day in the library, students followed up in their online homework sharing what they learned:
Something I learned about finding sources was to keep an open mind and a critical eye. I have only written scientific reports / papers that are in my opinion less biased and more factual. But for this English class, I believe the sources I will be looking for can have many arguments, perspectives, etc.

I learned that if an article, or another source, is sponsored by a certain group such as PETA, there may be bias in the writing.

I learned that a reason to cite was to help the person that is reading find other information on the topic. I also learned that you don't have to cite dates because they are considered common knowledge.

If a piece is reviewed by other experts in the field, then it is considered scholarly or peer-reviewed.
Students owned these ideas on source evaluation and citation. During the final research paper peer-review sessions, they scrutinized their partners' sources and suggested avoiding certain websites like Biography.com or questionable news outlets. They made multiple research appointments with the library help desk. My students were on the lookout for "alternative facts" (Rutenberg); they sought valid data to support their arguments and make informed decisions in their writing.
I tell my students that to be good writers they must be good thinkers. They must be keen observers who locate their ideas within current research in their fields. Over the semester we read deep thinkers: the Desert Fathers and Mothers, Jalal ad-Din Muhammad Rumi, Annie Dillard, and Wendell Berry. With their words they invite us to envision and to understand; they even may move us to action. We consider what intrigues us and makes us want to read more.
Although these aforementioned authors appear in many spiritual writing anthologies, my students admit little previous exposure. Many self-identify as "Christian" and all attend Hope College, a liberal arts college affiliated with a Christian denomination (Reformed Church in America) yet they lack an awareness of the abundant field of spiritual writing across time and space. The semester often starts with resistance from a few students —"Aren't we going to read some more popular Christian authors?" and "When am I going to write about my faith?" —and this expansive view of spirituality offered in our class allows them to locate themselves within a larger tradition. In a final reflection, students underscored their widened perspectives:
This semester we have reflected on a variety of topics and spiritual writers. I think that having the opportunity to reflect on writings of many forms and from many different cultural, ethnical [ sic ], and gender backgrounds has allowed me to have a broadened worldview. Before this class I only really knew of writers from the Methodist affiliation and others such as C.S. Lewis and William P. Young. Through this class I have received a new perspective of many religious types and practices which has caused me to question and become more curious about my own and other faiths.

As a person I believe that I am more open to other people, their opinions and thoughts through their writing. I now feel that I understand people better and on a different level, which is important to carry on throughout my lifetime. What I'll take away from this course is a lot of the different spiritual giants' practices. I never knew any of them existed, but I think being aware and acknowledging them is really interesting as well as important.

By reading widely, my students grew in their abilities as writers and thinkers. They became better able to write from their unique locations with curiosity and openness toward others. The word democracy from the Greek, "demos" (the people) and "kratia" (power or authority), highlights the power of the people. It is my sense that we need people who can think. We need people who can clarify their ideas through writing. We need people who can locate themselves within national and global contexts —aware of their own needs alongside the needs of others.
As I look back, I see that this awareness of self/other and the responsibility to community developed in our commonplace peer-review sessions. I find that as educators we often approach peer-review as a way of helping students to improve their work, strengthen editing abilities, and value process writing. The little talked about byproducts of these sessions include the building of community and an increased understanding of audience. In sharing writing with classmates, students become vulnerable as they open themselves to critique, and this vulnerability can lead to deeper meaningful connections among students.
The charged post-election climate only increased this sense of vulnerability as students in course became aware that their work would be read by peers of different faiths and political views. My students' anxiety led me to see how creating a "safe space" in our classroom was more crucial than ever. I continued my practices of creating this space through various means: explicit expectations of listening, tolerance, and respect in the syllabus; reminders of ground rules before peer sharing and presentations; modeling listening and asking good questions; and frequent team building activities. My hope is that while many suffered violent language on college campuses post-election, my classroom might be a space for listening and respectful dialogue for all students regardless of their spiritual, political, or personal beliefs. In this, we forged a strong community and grew in myriad ways. As the students commented in their final reflections, these "safe space" experiences empowered them to consider their audience, dialogue thoughtfully, and develop clearer voice:


This mindfulness on being open to new ideas has also given me a chance to focus on writing to my audience more, instead of trying to simply follow an outline. I can write in a way that hopefully better connects to my audience, as I am thinking about them more.

During this semester I feel as if I have become a stronger and more critical writer. This class has taught me to reach out to others to receive ideas about a paper and has even taught me to let other people look over my writings in order to help better my writings.
Beyond writing, one of the greatest challenges for certain students post-election was their lack of confidence in speaking. The words and actions of Trump toward women, people of color, and the physically disabled (and the affirmation of these actions by American voters in the election) triggered for many memories of past abuse, discrimination, and silencing. Anxieties increased when some student Trump supporters on our campus felt emboldened to hiss racial slurs post-election (Goodell). Presentation sessions, a standard end-of-semester course component, thus became a key site for students to take risks in using their voices again. Most striking were the questions during our post-presentation discussion time. On one particular day a shy student of color boldly raised her hand to ask the presenting student about his research on possible responses to contemporary Christian persecution: "Could you clarify where this persecution of Christians is taking place? I have not heard much about it in the news I read. And how does it compare with persecution of Muslims and people of other faiths in America today?" The class went silent. Her savvy questions pointed to the credibility of his sources and invited him to rethink his work with a wider lens. The student who posed these daring questions wrote in her final reflection:
This semester I have learned to embrace my vulnerability instead of hiding it. I have learned that showing my humanity makes me relate better to people and strengthens my personal relationships because I am letting people see my inner self. This course also taught me that we can use our words to advocate for the issues we are passionate about. We can use our ability to write and speak to influence the people around us to act for the common good.
She had found her voice, and in her questions she engaged someone with contrary views in dialogue with kindness. I was thankful for this interaction despite the discomfort and affirmed that our safe space in the classroom allowed for this conversation to take place.
I also felt proud of the student presenter, who after an individual conference with me earlier in the semester, replaced questionable sources with more reputable ones and who responded thoughtfully to questions that challenged his work. One of the comments I often hear from students at the end of the semester is that they take away a broader view due largely to our diverse readings and dialogue with classmates. This broadening is not always easy. As Mary Kaar recently noted in a response to the election, "The hardest thing about democracy is the […] process of listening to people you don't agree with." My sense is that my student's core beliefs remained the same, but that he grew to listen well and value the voices of his peers.
This semester taught me that teaching first-year writing is foundational for the flourishing of democracy; this is the first place in college we teach critical thinking, reading, researching, and writing. It is in this place where students from a diversity of majors and backgrounds come together to listen, learn, and work together. While it is never my goal to sway any student to a particular political party or ideology, it is my goal to develop students' abilities so that they participate as thoughtful, engaged citizens. In another way, I hope that my course will be a model for what could be, a place where we listen to each other with tolerance, respect, perspective, and empathy. These are the traits essential for living in a diverse nation where all people are endowed with certain inalienable rights.
In the academy at large, where more people are attending college than ever, my hope is that we as faculty begin to value first-year writing courses; that we see these courses as foundational in the ways they provide critical tools for surviving and thriving in our America. My hope is that we professors of writing, often times part-time faculty and graduate students, feel affirmed in our good work. My hope is that college and university administrators recognize the value of these courses. My hope is that first-year writing will aid us in our work for a more democratic America.
---
WORKS CITED

Boal, Agosto. Theatre of the Oppressed. Translated by Charles and Maria-Odilia Leal McBride, Theatre Communications Group, 1985.
Goodell, Andrea. "Hope College Minority Students Report Harassment After Election." The Holland Sentinel , 11 Nov. 2016.
Karr, Mary. "Trump's Win Shows Us It's Time to Listen But Not to Forget." The New Yorker , vol. 92, no. 38, 21 Nov. 2016.
Rutenberg, Jim. "'Alternative Facts' and the Costs of Trump-Branded Reality." The New York Times , 22 Jan. 2017.