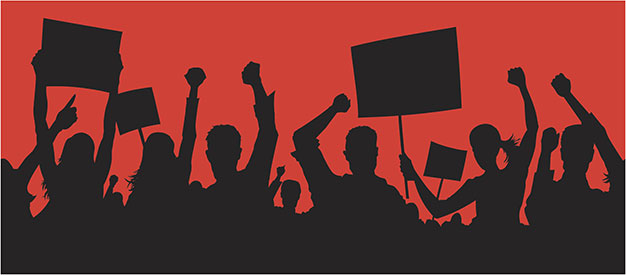 Steven Volk, Director, Center for Teaching Innovation and Excellence (CTIE), Professor of History Emeritus, Oberlin College
Contact: svolk@oberlin.edu

Posted April 24, 2017
It has been an unsettled period at the Claremont colleges in California. On April 6, about 250 protesters at Claremont McKenna College blocked the entrance to the building where Heather MacDonald was scheduled to speak. MacDonald, a critic of the #Black Lives Matter movement, authored The War on Cops: How the New Attack on Law and Order Makes Everyone Less Safe. She ultimately gave her talk for live streaming before a largely empty hall.
Students at Harvey Mudd staged an 8- hour sit-in demanding greater support for mental health issues on campus following the placement of an associate dean for Mental Health and Wellness on administrative leave. The president then closed the college for two days of campus-wide conversations on April 17-18 to discuss those protests and a series of other issues, including the leaking of what some characterized as "stinging remarks from professors" about students.
Following the death of a student at Scripps on April 6, the Residential Advisors at that college announced that they would go on strike on April 20 unless their demands, including the resignation of that college's Dean of Students, were met.
Students at Pomona also responded negatively to a campus-wide letter sent by Pomona College president, David Oxtoby voicing his opposition to students who blocked MacDonald's talk.
By coincidence, or perhaps less-than-divine intervention, I had been invited many months ago to speak at the colleges on April 18 as the 2017 Claremont Colleges Center for Teaching and Learning Distinguished Lecturer. My announced topic: "New Student Activism: Challenges and Possibilities." This week's "Article of the Week," is the talk that I gave, with some edits, additions, and links to sources. Your comments, as always, are quite welcome.
What can we say about the moment we're living in terms of student activism on campuses since the inauguration of Mr. Trump? On the one hand, students from Oregon State to San Diego State and from Auburn to Wichita State have staged powerful actions in support of undocumented students, DACA registrants, immigrants and refugees from around the world. On the other, events at Middlebury, Claremont McKenna, Canada's McMaster University and elsewhere have attracted the media's attention when students either shouted down speakers or refused to allow audiences access to hear them. Concerns over the erosion of civil rights under Attorney General Sessions have competed for airtime with protests over the cultural appropriation of hoop earrings (Pitzer College) or hair braiding (Hampshire College). That there are about 6,400 institutions of higher education in the United States and yet the actions of students at a handful of selective liberal arts colleges seems to set the tone for what the public thinks about this generation of students, activist or not, is probably par for the course. It nods to both the influence that a certain tier of private colleges and flagship universities has always exercised, and the (wearisome) pleasure that many in the media take in ridiculing students who protest at very expensive, elite colleges and who, in their opinion, should be thanking their lucky stars (or their wealthy parents) for being where they are rather than carrying on.
If it's been an agitated semester at some of the Claremont Colleges, in contrast it's been a relatively quiet year on my campus. Oberlin, situated by the New Yorker's Nathan Heller at the center of the radical-irrational-illiberal vortex a year ago, has been, well, kind of calm. Reporters aching for stories of Oberlin's nuttiness have been forced to return to protests from a few years back over the cultural appropriation of bahn mi sandwiches and sushi in the dining halls. (Google "Bahn mi," and there, right behind the Wikipedia entry, is an article which leaves no doubt at all: "Lena Dunham Says the Oberlin College Food Court Serving Sushi and Banh Mi Is Cultural Appropriation." How can you argue with that!)
I'm not teaching this year, but faculty and students I've talked to are not clear why it's been so quiet. Some say that students are still a bit shell-shocked from the election results; that they are looking to have an impact without dividing the campus; that they are keeping their heads in their books as a defense mechanism. Or perhaps, it's been quiet because our president announced at the start of the school year that he would be resigning on the completion of his tenth year at the college, and with that he removed a lighting rod for student protest.
And then again, and much more interesting, is the fact that there has been a lot of activism on campus. Students, faculty and staff have run numerous workshops on "undocu-Rights," brought in speaker after speaker to discuss how to protect civil rights, sanctuary cities, "fake news," and Syria and other countries  in crisis. Students have raised the issue of how to increase their access to the trustees, find more support in the budget for counseling services, and, most recently, challenge changes in housing and dining policies. But these aren't (or haven't been) headline grabbing types of activism.
The Illiberal Moment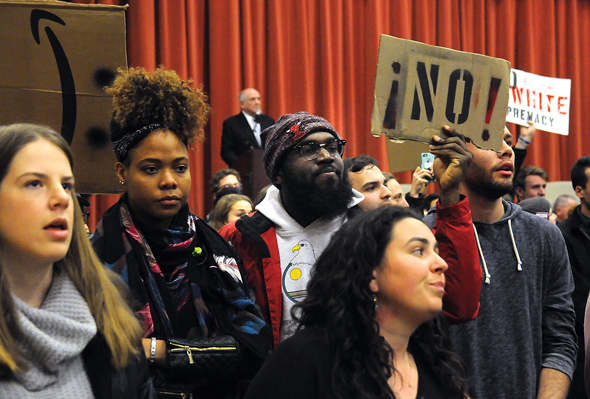 My interest in student activism is a bit broader than the latest protest, although I'm quite interested in what Cornel West and Robert George have called an "illiberal" turn in activism that we have seen at Middlebury, Berkeley, Claremont McKenna, Hampshire, Smith, and elsewhere, campuses where students have blocked or disrupted invited speakers.  I'm interested in what such protests say about the moment in which we live, and, fundamentally, what these protests in both their "illiberal" and their progressive aspects say about the role of the faculty and the tasks of teaching and learning at this moment.
Even if the surprising electoral results have caused come recalibration in student protest, we are witnessing a level of student protest that has not been seen since the late 1980s, and perhaps not since its apex in the late 1960s and early 1970s. At Oberlin, we have been enmeshed in a cycle of protest since 2012. The current wave of student activism nation-wide has brought down presidents and chancellors, advanced reforms, generated criticism, and certainly captured headlines.

In sync with student activism since the 1960s, this generation of protesters has called for the redistribution of power and rule-making authority in colleges and universities, demanded changes that often rest beyond the institution's grasp, pushed administrators into uncomfortable, if not untenable, positions, and, questioned the essential purpose and meaning of higher education itself.  After a lifetime in teaching, I must say that not only am I not disturbed by this, but that I would be more concerned if students grew complacent and only focused on getting their degrees, only focused on getting "value for money" without ever questioning what "value" means in the context of their education. After all, over the years it has often been student protesters who have reminded us of how far from many of our loftier goals for social betterment we have drifted.
And yet, if contemporary student protests can be seen as a continuation of earlier generations of activism, some aspects are different, both because of almost a half-century of neoliberal consolidation (which has done its work to turn students – and the rest of us – into a primary identity as consumers), and because we seem to be living in that distressingly "illiberal" moment that West and George referenced, one somewhat prophetically forecast by Fareed Zakaria back in 1997. In the context of rightist regimes — Hungary and Poland come to mind —  "illiberal" refers to governments that have reached power democratically (at least in the formal sense of receiving a majority of the votes), but that have turned their backs on minority rights that have long been a part of the democratic contract. Certainly, there are disturbing echos of this in Trump's America.
When I use the framework of "illiberalism" to describe some student activists, I use it in the opposite manner. If student activists are jettisoning classical Millsian liberalism, particularly Mills' view on the essential value of absolute free speech rights, regardless of content and regardless of how many may hold such views ("If all mankind minus one were of one opinion, and only one person were of the contrary opinion, mankind would be no more justified in silencing that one person than he, if he had the power, would be justified in silencing mankind"), they do this because the "democratic contract" often will not, unless forced, even consider, let alone protect, minority rights. While there may be some activists who conform to the media's view that protesters are "precious snowflakes" who seek protection from opposing views, more accurate would be to characterize their challenge to Liberalism as one based on a realization that the "marketplace of ideas" has quite successfully excluded many minority views from the conversation for an awfully long time. More accurate would be to say that many students are asking that we see that the academy's devotion to open discussion, which of course we seek to promote, is often tied to privileges that not everyone has access to, including many in our own institutions.
And yet, even as this may be the case, I worry deeply that the act of shouting down speakers, by some, or inviting speakers whose primary purpose is not actually to educate but to provoke one's opponents, by others, will not only leave hard-won academic freedoms exposed and vulnerable, but can challenge what it is we do in our colleges and universities:  teaching and learning. In this talk (and now, article), while recognizing the importance, indeed the urgency of student activism, I will examine some of the "illiberal" characteristics of current student movements that seem problematic to the extent that they undermine their own ability to get desired changes; problematic in that they can undermine the ability of faculty and students to pursue common goals, particularly as regards the social justice mission of many U.S. colleges and universities. I'll suggest why I think this is the case, and lay out some ways forward that foreground the role of faculty as critical (if often absent) mediators of student activism, and finally argue that the classroom must be a central space of democratic praxis, one that can positively impact not just how student demands are formulated, but how change can come about.
Student Protest: Through-Lines and Differences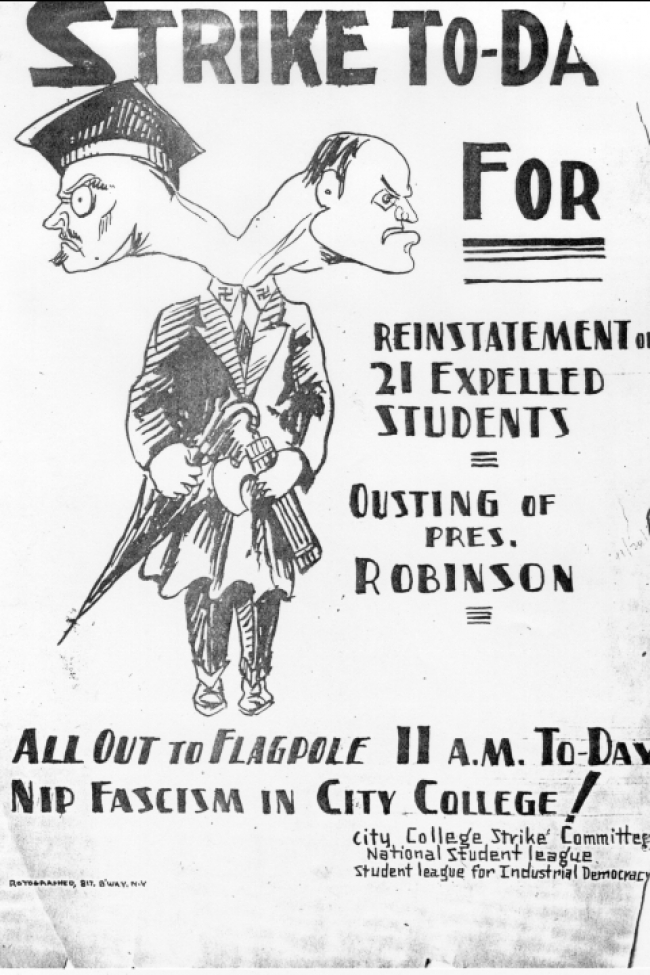 Historians of student activism have observed that protests have been here "from the literal beginning." Harvard students in 1638 protested their house master's over-generous use of the rod, as well as his wife's partiality for serving them moldy bread, spoiled beef and sour beer. Half the student body at Princeton was suspended in 1807 for engaging in a violent rebellion in favor of what they considered to be their natural rights.
A recent article in the Chronicle of Higher Education reminds us of a protest at City College of New York that greeted a delegation of Italian students in 1934 who were representing Benito Mussolini. Not only did the president of CCNY refuse the students' request to disinvite the fascist delegation, but he made attendance mandatory for freshmen. When the Italians were  introduced, most of the 2,000 students in the auditorium began to kick up a ruckus. The student body president, who quieted the crowd by stepping to the podium to introduce the event, instead called the Italian students "dupes" and said they were "enslaved" by Mussolini. When a professor of Italian tried to grab the mic from him, fights broke out and the assembly was cancelled. President Robinson expelled 21 students, suspended the student government, and called more than 100 students in front of disciplinary committees, all for having stifled the free-speech rights of the Italian students. It makes Middlebury look like a garden party at Downton Abby.
When I think of the contemporary era of student activism, I foreground the activism of the late 1960s, protests that were ignited by the civil rights movement (student activists from Berkeley to Brandeis had been educated by Mississippi Summer in 1964), the war in Vietnam, demands to allow political speech on campus, and, to a lesser extent, women's rights. Student protest was often tediously ideological (Oh, the hours spent parsing Lenin and Luxemburg!) and frequently militant (building takeovers, student strikes). Non-violence began to give way to some violent actions in the late '60s and early '70s as the Weather Underground gained ground in SDS, although the majority of student protests remained peaceful. Student demands ranged from those linked to the anti-war movement (including critiques of the "military- industrial-university complex"), the closely related anti-draft movement, concerns for institutional reform, free speech rights, and demands for new curriculum.
Re-reading the 1962 "Port Huron" statement, SDS's "founding" document, one can get a sense both of some through-lines of protest from the 1960s to the present, as well as some differences. Even in the early 1960s, students were raising concerns that universities had become assembly lines intent on mass producing ideologically conforming bureaucrats who would graduate to take their places in the corporate hierarchy. Long before MOOCs made their way into the higher education environment, SDS warned that "Colleges [were] develop[ing] teaching machines, mass-class techniques, and TV education to replace teachers, to cut costs in education and make the academic community more efficient and less wasteful."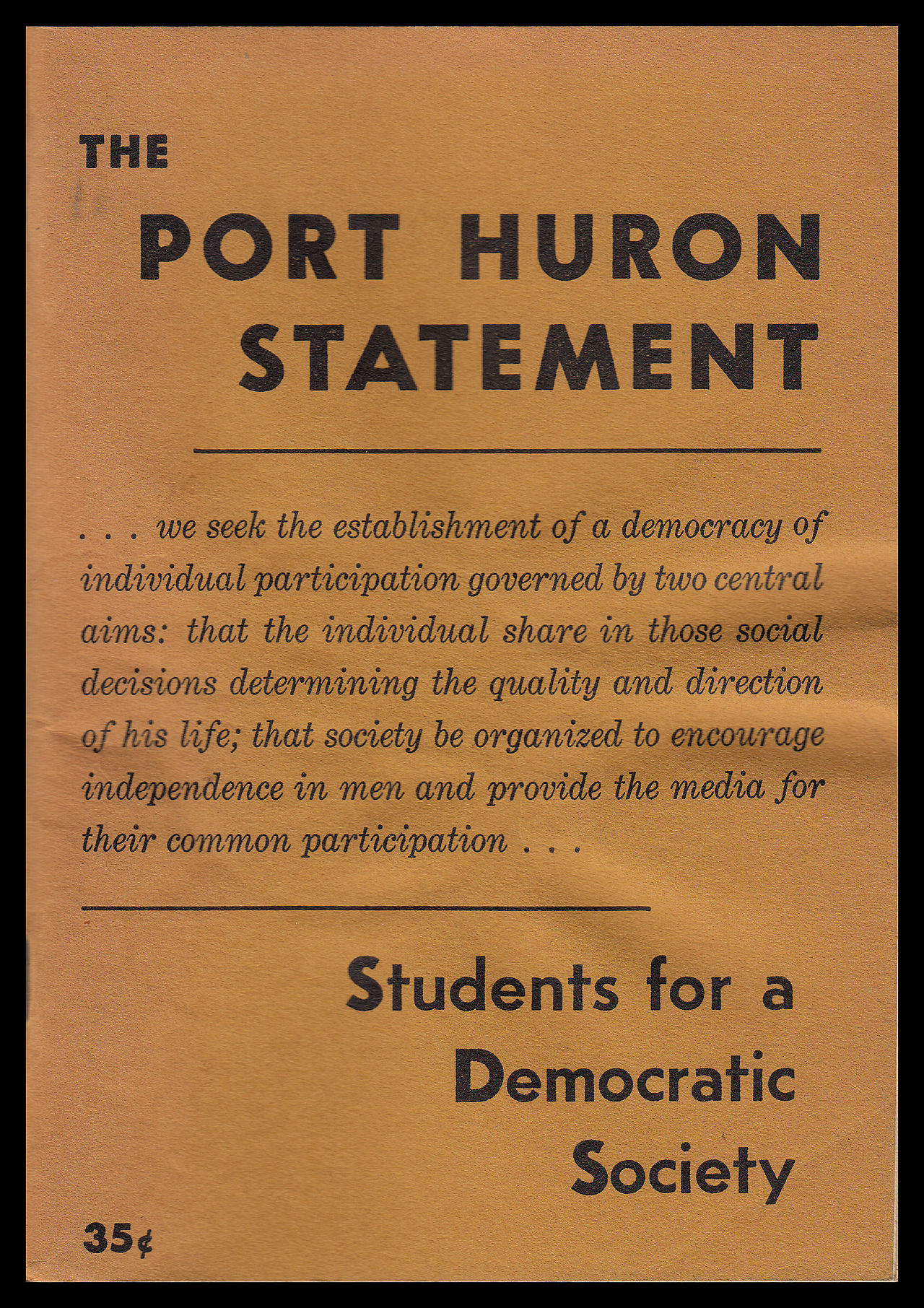 But SDS also argued for the importance of making the university a center of debate and argumentation: "The ideal university," the document reasoned, "is a community of controversy, within itself and in its effects on communities beyond…" And far from seeing administrators as agents of or for student demands, SDS advocated for students to "wrest control of the educational process from the administrative bureaucracy," and to do this by forming "an alliance of students and faculty… mak[ing] fraternal and functional contact with allies in labor, civil rights, and other liberal forces outside the campus…[and] mak[ing] debate and controversy, not dull pedantic cant, the common style for educational life." [For more on this, see Angus Johnston, "Student Protest Then and Now" (2015) and Gerard J. Degroot, Student Protest: The Sixties and After (Routledge, 1998), among many others.]
As with many of the protests in the 1960s and 1970s, the current wave of student protest has been generated by, and is entwined with, national concerns, particularly racism, sexual violence, and growing inequality. Since Trump's inauguration, students have brought attention to issues of immigration, the growing climate of xenophobia and the resurgence of white nationalism in the U.S. As well, campus protests have targeted college admissions practices, curricular inclusion, access to culturally relevant counseling services, and more equitable campus labor policies, among others. Much like earlier protests, student activism around these issues has developed autonomously on many campuses, although the Internet now allows local groups to remain intensely aware of events occurring elsewhere. Demands that were put forward at Amherst, for example, were independent of, but inevitably linked to, those penned at Missouri, Dartmouth, Kennesaw State and elsewhere.
Of the primary concerns prior to 2017, persistent racism on campus and in the nation, ignited by the #Black Lives Matter movement, attracted the most sustained attention of student activists. Regardless of the fact that colleges and universities are demonstrably more racially diverse than they were in the 1960s (and perhaps because of that fact), and that they are fundamentally transformed from the (mostly) all-white, elite institutions of the 19th century, as Harvard Law Professor Tomiko Brown-Nagin wrote recently, the critique of campus life put forward by the current generation of students "poses a profound challenge to those who have never seriously contemplated how inclusion might or should change institutional practices inside the classroom and outside of it." If attempts to improve "compositional" (or quantitative) diversity have been difficult, the demands for "interactional" (or qualitative) diversity have met even less success, leading to the students' insistent questioning of issues of representation and accountability. (For more on this, see Tia Brown McNair, Susan Albertine, Michelle Asha Cooper and Thomas Major, Jr., Becoming a Student-Ready College: A New Culture of Leadership for Student Success (San Francisco: Jossey-Bass, 2016).
And yet, if the current generation of student protesters carry some of the same oppositional DNA from earlier generations, they also differ in important ways, some of which lend themselves to easy caricature, others which are a product of the technological age in which we live, and still others which can raise concerns. Among these differences, I would note five aspects in particular: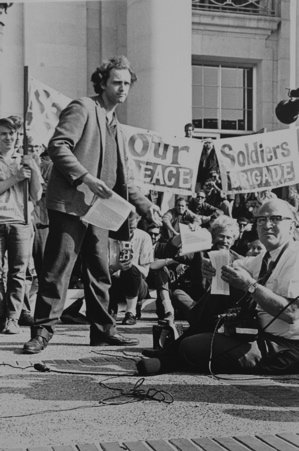 1) The interiorization of the language of protest. If some forms of contemporary student activism look familiar, the language of protest is often quite distinct, being less ideological than it was in the 1960s-1970s, and often highly psychologized, emphasizing issues of personal trauma and individual safety. This might have to do with the fact that, with the demise of socialist states in the world, the Left has edged away from "grand narrative" ideologies and is at a theoretical (and often practical) loss as to how to confront the current moment. Whatever the cause, the turn toward a language of "interiority," with an emphasis on personal pain and feelings, quickly conjures up an eager media's image of the "coddled" student who seeks safe spaces, avoids vexatious ideas, and sees college as a place to "practice activism." This is even more the case when such language arises among privileged, sometimes very wealthy students at elite coleges. Student protests on individual campuses (especially when magnified by the media's attention) often foregrounds personal and psychological over structural issues, or, as George Lipsitz, a professor of Black Studies at the University of California, Santa Cruz, once put it, "the cultivation of sympathy over the creation of social justice."
I am not prepared to argue what has given rise to this linguistic-political turn, but one can justifiably ask if it is one with a larger trend that has seen the number of students seeking mental health services at college and university counseling centers increase by nearly 30% between 2009 and 2015 (Center for Collegiate Mental Health); or a product of the fact that more than half of the college students who visited their campus counseling centers during the 2015-16 academic year reported symptoms of anxiety (Association for University and College Counseling Center Directors).
At the same time, I hasten to point out that issues of safety carry a very different valence for black students (not to mention faculty and staff – as Raina Leon's painful and poignant recent article in the Chronicle of Higher Education, "Don't Let Them Steal Your Joy" reminds us), as well as for Muslims, immigrants, undocumented, trans and other marginalized communities, all of whom are at greater risk in an age when more people feel emboldened to act out their racism.  Recently released findings from the National Survey of Student Engagement notes that one in seven black students feels physically unsafe on college campuses.
2) The internet: Everything looks closer and bigger: The internet has helped to shape contemporary student activism in both positive and negative ways. Its democratizing impact has made it harder to keep repressive and hateful actions under wraps. News spreads quickly, and students at hundreds of universities are soon made aware of events happening next door, across the country, or around the world.  But there are negative consequences of this information-saturated moment, as well. "While every generation of black Americans has experienced unrelenting violence," Robin D.G. Kelley recently observed, "this is the first one compelled to witness virtually all of it, to endure the snuffing out of black lives in real time, looped over and over again, until the next murder knocks it off the news."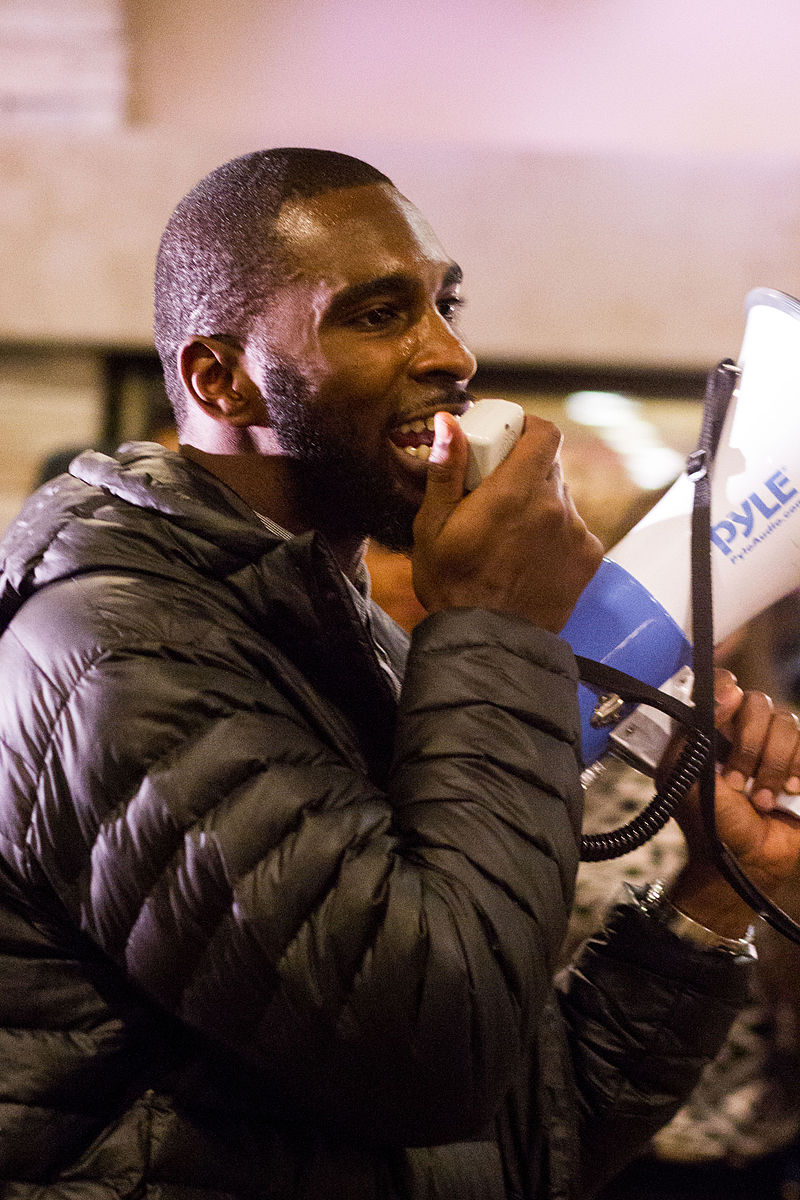 The internet has the clout to make distant events seem threatening, and to allow events unfolding half-way around the world feel as if they are unfolding in the middle of one's own campus. The internet's ability to "relocate" remote events can make it harder to hide police violence, but it can also lead some students to feel that they need to respond to every injustice, all the time, removing both proportionality and immediacy. And its relentless nature can cause others to become increasingly desensitized and disengaged. (And here we need to circle back to the question of why student language tends to foreground issues of safety and personal trauma. I hesitate to raise this, but if horrific images from chemical attacks in Syria can cause – yes, cause – Mr. Trump to launch his missiles, our students (who I can say without hesitation, are orders of magnitude more empathetic than the man with his finger on the launch button), often only have the tools of their language by which they can respond, and that language will often express itself in traumatized forms.)
Furthermore, the internet's restless intrusiveness and the outrage machine that feeds off it can easily explode minor events into national scandals. Oberlin has been at the receiving end of this internet bullhorn as student gripes (back to bahn mi) more than once ended up being picked up by the Washington Post or the New York Times.